NOT TOO LATE TO REGISTER FOR THE 7TH ANNUAL DANCE PARADE & FESTIVAL AND EXPERIENCE
"UNITY THROUGH DANCE"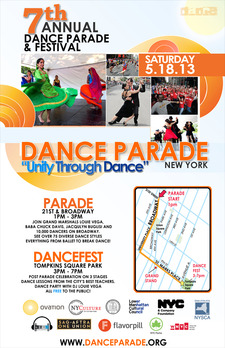 REGISTRATION
is still open for the world's largest celebration of diversity and culture—Want to dance ballet, ballroom, breakdance or break it down to some killer breakbeats? Sign up to
PARTICIPATE
in one of New York City's most anticipated days.
"Dance Parade is the official rite of passage from Spring to Summer" so says Jeannie Hopper of LIQUID SOUND LOUNGE of WBAI Radio.
CHOOSE
from any our growing list of dance styles and join us Saturday, May 18th for the Seventh Annual Dance Parade!
 Starting on 21st Street and Broadway,   the Parade will kick off at 1pm.  We will boogie our way down Broadway in History of Dance order! We will drum up some African beats, shine like only the Korean, Bolivians and myriad ethnic cultures Can Can and Samba our way past Union Square and onto University Place. At Eighth Street we will Salsa, Tango and Waltz East into Saint Marks Place. Pause to Hula, Stilt and Break Dance in front of Our VIP Grandstand in Astor Place–then our House, Techno and Disco floats will have afternoon shoppers wigglin as they watch us get down in the heart of the East Village. A straight shot from there brings us to DanceFest in Tompkins Square Park.
Starting at 3:00pm, in Tompkins Square Park, we will come together and celebrate dance watching free dance performances on three stages, be able to take free dance lessons, visit dance community information booths and enjoy an outdoor dance party.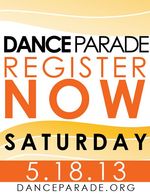 CLICK 'PARTICIPATE' from the menu above!

HELP US KEEP NYC DANCING!: 

Dance Parade offers FREE Dance Classes to Schools and Community Groups throughout the year, as well as the FREE Annual Parade and Festival. Please support this fun and exciting, yet important way to offer DANCE in its many forms to the public by making a tax-deductible donation today!